Ace Dent Removal offers dent removal in  Kansas City KS using the paintless dent repair method (PDR).
Now, you don't have to live with those minor dents and dings on your vehicle because it costs too much to have them fixed. Ace Dent Removal will COME TO YOU and repair those minor dents for a FRACTION OF THE COST of conventional repair. Moreover, most dents can be repaired in less than one hour. In addition, there are no worries about paint matching, or peeling, because your dents are repaired without removing your factory paint. One recent customer said it best, "Wow…it's like the dent never happened!" That's it in a nutshell. We patiently massaged out the dent from the back using specialized tools. When we're done your car is 100% factory again. We need no bond-o or paint. We also can repair hail damage for your vehicle.
Dent Removal Kansas City KS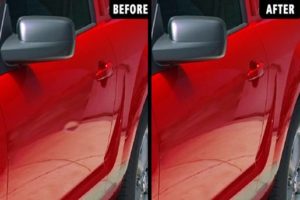 Ace Dent Removal is your one stop shop for repair of dents to your vehicle.  In addition, we provide a level of quality and workmanship that can only be found in technicians who have an extensive knowledge and skill for those dents & dings. For instance, dent removal can take years to learn, and we have over 25 years of experience!
Hail Damage Repair

We specialize in repairing vehicles that have hail damage.  Moreover, you can relax knowing that Ace Dent Removal has the experience to get your vehicle back to its pre-damaged condition. In conclusion, We have a 100% satisfaction guarantee and a written limited lifetime warranty.
Lease Returns

You can avoid a costly new paint job negatively affecting your vehicles factory finish, dent and ding repair by Ace Dent Removal. As a result, we can provide an affordable and high-quality solution to the unexpected annoyance of vehicle dents and dings. Before you return your leased vehicle, we can restore your car's surface back to its original factory condition. Furthermore, PDR is still the most economical technique to utilize if you're in the Kansas City KS area.
Call Ace Dent Removal today @
 (913) 485-2524 or fill out the form below
Other cities that have paint dent removal professionals that can assist you.
Brentwood NY |Flushing NY |
The Hamptons | Islip NY |
Lindenhurst NY | Massapequa NY |
Mastic Beach NY | New Rochelle NY |
Sayville NY | White Plains NY