Alabama | Arizona | California |
Florida | New York | New Jersey |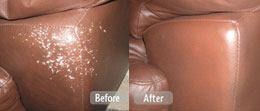 We specialize in vinyl & leather upholstery repair, including leather care, and furniture repair. Furtheremore, we can do repairs on vinyl upholstery as well.  We can restore the original color of the leather and vinyl. As a result, we can repair automobile upholstery, a couch,  your favorite recliner, office furniture, or even medical equipment. In addition, we can even re-dye it to the color of your choice. For instance, our local technician can restore the vinyl on examination tables in medical offices, or the chairs in the waiting room. Also, upholstery repair on boats, RV's, and even airplanes can be saved if you give them a call. They also restore plastic like cracked dashboards, door moldings, and the console in your vehicle.
We're Environmentally Friendly
Use of Chemicals? We use predominately water-based products, therefore there's less odor and less chemical waste. Some finishing processes require the use of more traditional products. In that case, we will ensure adequate ventilation or simply work on the piece outside of the home.
We repair wear and tear that are an eye sore and show from a distance. In addition, we are mobile and can come to your home.  Furniture is expensive, therefore, repairing instead of buying new furniture can save you thousands of dollars.
Aliso Viejo | Anaheim | Costa Mesa
| Dana Point | | Irvine | Laguna Beach | Laguna Hills |Laguna Niguel | Laguna Woods | Lake Forest | Mission Viejo | Newport Beach | Rancho Mission Viejo | San Clemente | San Juan Capistrano |